FAQs
Questions about AIRMAIL COCKTAIL orders?
The answer is probably here. If not, please do not hesitate to contact us.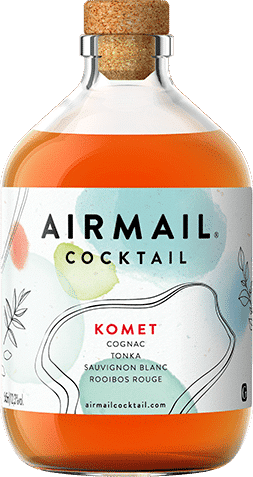 Where do you deliver?
We ship to Europe. Depending on the country in relay or at home in express or not.
Cognaçais: if you select the pickup when ordering, we will inform you as soon as possible of the pick-up locations and times.
What is the minimum to order?
There is no minimum purchase amount.
What are the shipping costs?
Shipping costs depend on the weight of your order and your choice of delivery type.
From a purchase of €40 including tax, we offer you the shipping costs to a relay point (3 to 5 days) to Metropolitan France and from a purchase of €150 including tax, we offer you the shipping costs to your destination. of Metropolitan France whatever the type of delivery chosen.
You can also take advantage of a free Cognac withdrawal.

How do pre-orders work?
For some products (seasonal or new), a pre-order may be set up. In this case, the "Add to cart" button becomes "Pre-order".
However, you can add the product(s) to pre-order and validate your order. We will ship no later than the announced date.
Please note, however, it is not possible to make a basket with pre-orders and items in stock.

What are the means of payment?
You have the option of paying for your order by credit card.
For a larger order or on a professional basis, do not hesitate to contact us to consider payment by bank transfer.
Can I choose my delivery date?
You have the option of selecting a delivery date when placing your order.
However, this date will remain dependent on the processing times of your order and delivery times.
In the case of a withdrawal at Cognac, we will make sure to stick to this date. However, if this is not possible, we will keep you informed.
How to track my order ?
When your order ships, we send you tracking information. It will allow you to track your order in real time.
What should I do if my package is damaged during transport?
Upon receipt, you can refuse the package and make a complaint to us. For this you must mention it on the delivery note before affixing your signature. Written reservations must be formulated very legibly (keep a copy of the latter) and communicate them to us at the latest within 12 hours of receipt of the package.
All justified complaints will give rise to an investigation in order to define the responsibilities and then proceed to the reimbursement in part or in full of the order.
What if I want to return the order to you?
You can return all or part of your order to us on simple request on hello@airmailcocktail.com and within a maximum of 14 days after receipt of the order. Return costs are your responsibility and only unopened and undamaged products will be refunded.
How do I use my promo code?
After having selected your products on our site, click on "see the basket" then enter your discount code and click on "Apply my promotional code" in order to benefit from your advantage then continue your order.
We draw your attention to the fact that the "reduction voucher" has a period of validity corresponding to that specified on the offer you received.